Happy Spring!
What a beautiful weekend it was-
High sixties, and perfectly sunny
(a lot different than the low fifties,
and pouring rain we're experiencing today!)
This past weekend also marked the closing
of my Spring Break *sad face*
But I bade my adieus in style with a day
area which was the home of the famous
19th century poet, William Cullen Bryant.
What does this have to with New England, you ask?
...William Cullen Bryant happened to be a Massachusetts native!

(I was quite surpised to discover this, since he had
so much influence in New York City)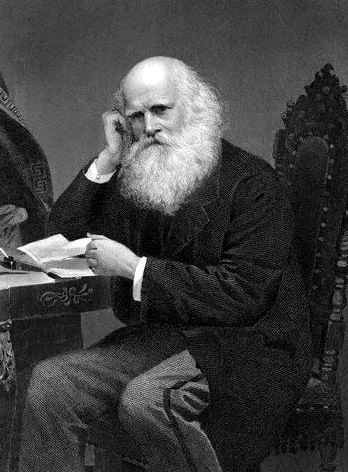 William Cullen Bryant
"He was born in Cummington, Massachusetts, the second son of Peter Bryant, a prominent doctor. His ancestors on both sides came over in the Mayflower. Educated at Williams College he went on to study law at Worthington and Bridgewater, he was admitted to the bar in 1815.
Interested in poetry since childhood, his first published work was a book of verse, The Embargo (1808) and his first critically acclaimed work was the poem 'Thanatopsis' (1817) which appeared in the North American Review. Writing in a English romantic style and celebrating the countryside of New England, his work was well received. He also wrote 'Lines To a Waterfowl.' Among his best known poems are also 'The Rivulet,' 'The West Wind,' 'The Forest Hymn,' and 'The Fringed Gentian.'
He worked as a lawyer in Northampton, Plainfield, and Great Barrington until 1825 when he married and moved to New York City and worked for the New York Review and then the New York Evening Post.
At first an associate editor, he became editor in 1829 and remained in that post until his death. The driving force of a liberal and literate paper, he was strongly anti-slavery.
Bryant was a lifelong political activist, initially as a proponent of the Free Soil Party, and later in life, as a founder of the Republican Party. He was a fervent supporter of Abraham Lincoln's presidential bid in 1860.
In his later years, Bryant focused on translating and analyzing Ancient Greek and Latin works, such as The Iliad and The Odyssey of Homer.
Bryant died in 1878 of complications from an accidental fall.
Bryant's muse is tender and graceful, pervaded by a contemplative melancholy, and a love of solitude and the silence of the woods. Though he was brought up to admire Pope, and in his early youth imitated him, he was one of the first American poets to throw off his influence. He had a high sense of duty, was a prominent and patriotic citizen, and enjoyed the esteem and even the reverence of his fellow-countrymen."
Cedarmere, only a five minute drive from my house,
has always been my favorite spot to reflect in
solitude and enjoy the company of nature.


So, naturally, I had to go on my last day of break-
What better way to celebrate the return of Spring?

(click photos for larger views!)
I chose my favorite spot:
right in between the bubbling stream and the crumbling well
Contents of the basket all laid out!
My frontal view of Roslyn Harbor
Turkey and Provolone sandwich with homemade potato salad... Yum.
Jane Austen's Persuasion ♥
Lone fisherman in the distance
Lovely old tree
Uphill view of the stream, my blanket,
and Cedarmere
----------
The property is so picturesque,
I often have to remind myself that I'm in
present-day Long Island, not Georgian England!
I half-expect (or hope) to find Mr. Darcy
atop one of the many rolling hills, gazing
pensively down at the rippling harbor...
What? A girl can dream, can't she?
♥