I'm typing this in the midst of anticipation for the big winter storm tonight.
The house is stocked up with food, the teapot is whistling, and the nippy air is seeping subtly through the windows. Naturally, this sort of atmosphere brings with it "cozy thoughts" (hot cocoa, cupcakes, my kitties wrapped up in their quilts), which lead me to think of one of the coziest places in New England: Bed and Breakfasts!
I love B&B's.
When I travel, I simply refuse to stay anywhere else.
Hotels and resorts are pleasant, but staying in a B&B is an entirely different experience within itself.
For one, you really get to meet the locals (i.e. the innkeepers). There you are given the opportunity to chat face-to-face, on a much more intimate level, with people who truly love their town. Innkeepers don't usually get into this sort of industry if they aren't hospitable and generally interested in their local culture, so odds are, your interactions with them would likely be very satisfying.
I also adore B&B's for their simple "home-away-from-home" ambience. I love rooms that are set up by real people, not a plethora of indifferent housekeepers. I also really appreciate personal touches, such as hand-stitched quilts, local paintings/pictures, well-worn books, and thoughtful little care packages. The more appropriate the decor is with the town of the B&B, and the more historic, the happier I'll be!
And lastly, the breakfast. You cannot beat a homemade breakfast. Though breakfast at a diner is a treat, nothing is more tastier than a breakfast made from home♥
So with that said, I thought it would be a great idea for this new blog of mine to have a special day where I can show you three New England B&B's that caught my attention, and maybe give you a few ideas for a future trip of your own!
(Centerville, Cape Cod)
"
Long Dell Inn is located in Centerville, a quiet seaside town near Hyannis harbor, Osterville shops, bike trails, famous Four Seas Ice Cream, and beautiful Craigville Beach.
Circa 1835, Long Dell Inn is a fully restored sea captain's home featuring 7 distinctive guest rooms each decorated in classic New England style with antiques, comfortable chairs and four poster beds.
Modern amenities are throughout including air conditioning, wireless internet, private baths, some private decks and entrances, cable TV and daily newspaper.
A highlight of your stay will be the Chef/Owner's signature 3 course gourmet breakfasts. Afternoon wine and artisanal cheeses and breads are served for your enjoyment in late afternoon on the outside decks, sun parlor, or in winter, in front of the fireplace.
Long Dell Inn features a locally grown menu and is a member of the Buy Fresh Buy Local movement of the Southeastern Massachusetts Agricultural Partnership (SEMAP). Long Dell Inn strives to be a locavore establishment with most foodstuffs used produced within a 100 mile radius of Cape Cod. By providing locally produced, fresh foods, we hope to create outstanding dining experiences for our guests, resist industrialized and processed foods, and support the local economy.
If you are sailing to Martha's Vineyard or Nantucket, frequenting the lively Arts and Entertainment scene in Hyannis or Osterville, or enjoying the temperate waters of Nantucket Sound right down the street, Long Dell Inn is right in the middle of it all-in the center of all the reasons you come to Cape Cod."
Rates: $135-180
Wow.
(Newburyport, MA)
"Newburyport is famous for the number of buildings built in the Federal style, and the Clark Currier Inn is one of the city's finer examples. The building is actually two homes in one.
As you enter the wide central hall, you will see one of the Inn's most distinguished features -- an elegant graceful stairway, which leads to a landing and branches into two. This particular characteristic gives it the quaint designation of a "good-morning staircase."
The day begins in the dining room with a bountiful continental breakfast of fresh fruit, juice, bread or muffins, tea or coffee, and cereal. In the back of the house is the sunny garden room where tea is served each afternoon."
Rates: $125-195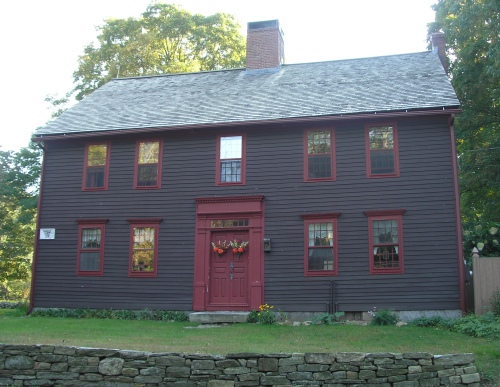 (Coventry, CT)
"The Historic Daniel Rust House in Coventry CT was established in 1800 by the Rose family as a place to rest and refresh yourself before undertaking the remainder of your journey. We strive to continue this tradition today.
We are located within ten minutes of the University of Connecticut and Interstate 84 and are situated on two beautifully landscaped acres amidst established perennial gardens and fruit trees. The B&B has all modern amenities including queen-sized canopy beds, private baths and fireplaces.
The B&B provides several common rooms. The cooking hearth is the center of attraction in the tavern room. The Stone Room is an inviting place to read a good book, linger on the covered porch overlooking the garden, or you may want to take a stroll around the yard and enjoy the perennial flower beds and herb garden.
A full country breakfast is served every morning between 8:30 and 9:30am. Coffee and tea are available in the dining room for early risers."
Rates: $120-185
(I really want to stay in that one!)
----------
Hope you enjoyed our first B&B Friday!
And for all those expecting snow tonight:
light up some candles, drink lots of hot stuff, and keep an eye towards the sky
♥